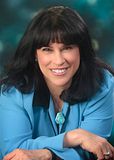 by Fey Ugokwe, Esq.
Or
she could have a tongue that seemingly undulates a trillion beats
vibrato
at you at whim, point guard to her headbytes, spitting out tomorrow's facts before you finished wiping off yesterday's.
And
she could do it all with zing-'em-n'-fling-'em liners like Mae West, that could shock-rock you to double over half-body to your knees, laughing in a disbelief at all that marvy, mouthy, New-York-chick sass.
But
if that's somehow not sufficient for you, all that goodsense Nor'eastern Italian quip-quickie--you with your multitech-induced, short-att-span and (think-)you've-seen-it-all-on-a-chat-or-reality-show-sighs--then she could, in an anecdotal instant,
snap!
deal you down the rest to, spinning, floor you, with true tales of: summitting the world's tallest mount (only to, like a gutsy, good capitalist, set a world record when she got there by selling her almost limitless supply of biographic books); tornado chasing; sky-diving; and searching for a spooky resting place that took a skin-prickling liking to her son's cell phone (Happy post-'Ween everybody). What actual face do
you
know that does that--and around what like-lightning thing of a brain? As in
Destination Unknown
well back in the day, a-a-ask yourself. The inimitable Fran Capo, the World's Fastest Talking Woman--that's who.
But '
tw
as in the interstitial moments of this "The PPI Women of Power Hours" interview,
http://tobtr.com/s/1269874
when she compressed whole branching corridors of caring for a dying parent, and other heart-wrenching hardships, to one footstep on tile in time--when she condensed surviving abuse to a few lines about a toy bound to a chair that made her abuser so oddly amused/afeared, he finally set her free--when she spoke of confounding physicians with a deadly condition that reads in force, but not in effect--that it was clear that this one is simply the stuff of some other, 'nother, galaxy. Capo, the human zip drive: neat, efficient, and nicely done; Capo the superwoman, bearing it all in micro-thin files, that she pulls out to show you but stuffs back before your head has caught up with the fact that your body has--and has had to--responsively hit the floor from the rush and rough of the contents; Capo, who rips that bandaid off and smacks it back before you've had time to feel the first flesh-tugging sting. Fabulously fierce, fearless, flippant Guiness-World-Record-wielding Capo, who even modern medicine says couldn't possibly still exist. The couch fave of
over 350 television shows, from
Larry King Live
,
Good Morning America
,
Fox and Friends
, The Discovery Channel and Nick at Nite, and over 3500 radio shows and counting, The Cap is electrifying all waves with her unceasing excellence, and thanks to the miracles of Mother Mary, always now knows--quite, quite clearly--what she was meant to do in this life. So, eat that podcast and then buy a book--buy a book already:
http://www.francapo.com
and prep your ears then eyes for a fantastic human storyboard tickling past you well faster than the speed of life.