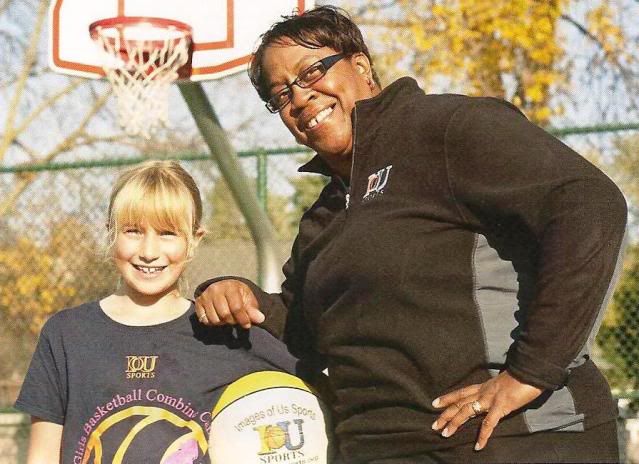 @IOU_SPORTS
by Fey Ugokwe, Esq.
@PinkPurseIntl
And some are forever The Driven, soaked in the sweat of years of denial and the hard-toil decades of non-diversity, ever streaking forward, kicks on wood and rising up--launching the sweet dreams of others toward Goal. Coach Bernell Hooker, former Pink Purse International Branded Radio, "The PPI Women of Power Hours" show guest, long ago leapt into place amongst them, these eyes-alight pioneers of Women's Basketball--these vehement champions of the inclusion of Women in that wondrous, whooshing world of professional sport. Missioned to her beloved city of Milwaukee, Wisconsin, Coach Hooker has been at realizing the aspirations of Midwestern young women in the field of basketball for decades. And, she has the accolades for days and scrolling tick list of community awards to prove it--her undefeated dedication to that continuing cause--many due to her superlative work as a Women's college basketball coach, inclusive of the Judy Sweet Spirit Award from the NCAA Women's Coaches Academy (2006), and the Presidential Award from the National Association of Girls and Women in Sports (2007). But one day, Coach Bernell Hooker decisively stepped up to that line again, this time, to spin forth a women-in-sport support nation--Images Of Us, a non-profit organization dedicated to empowering girls to achieve their best via the venue of Sport. Images Of Us specifically provides critical workshops, scholarships, mentoring, internships, employment opportunities, and more, in a myriad of sports, to girls and young women from all walks.
Since our PPI Radio Interview, Coach Bernell Hooker has become pioneering, Team Owner Bernell Hooker--by forming the Milwaukee Aces in 2014, a team in the newly re-launched, Women's American Basketball Association (WABA; which endeavours to be a developmental league for the Women's National Basketball Association (WNBA) and professional women's basketball teams overseas) she became the first person since 1978 to launch a women's basketball team in the state of Wisconsin. The tireless Coach Hooker also served as Commissioner of the WABA's summer league.
Coach Hooker reports that to date, her Milwaukee Aces team is headed to a second season and runner up off of the championship game; and that her Images Of Us Sports' STEM in Sports Academy will be partnering with the Black Inventors Gallery, to be launched by the Milwaukee Bucks, on February 27, 2016.
A Pink Purse International "Well Done You, Woman!" to trailblazing Women's Professional Sports Team Owner, Coach Bernell Hooker, and tremendous thanks for being such a sage, call-to-action, and superlatively informative, PPI Radio Show guest.
Click here to listen to our chat on "The PPI Women of Power Hours" Branded Radio Show:
http://www.blogtalkradio.com/pink-purse-international
-and-
Visit Women's American Basketball Association Team Owner, Coach Bernell Hooker's websites, The Milwaukee Aces,

http://www.milwaukeeaces.com

and Images Of Us,

http://iousports.org
to learn more about her women's professional basketball team's season, and her amazing non-profit sports organization for girls and young women.
______________________________________________________
You, High-Octane Miss, find time for everything, and everyone, in your 24-7, professional woman world…except your romantic self.
You, Frustrated Mrs., wonder how to make a meeting of the minds return, to usher in a new era of peace, diplomacy, and passion in the hostile,
foreign country that has become your marriage.
And you both need it all while trying to recover or maintain a strong sense of spiritual stability...
Sometimes a Woman needs a General--a Strategist--to map and task the battle within herself and her relationship life...
Hire Me, Coach Bibi Brown:


**The Miss to Mrs. Coach**
**Certified Global Dating/Marriage Strategist for Professional Women**
And let's win your love war together!

E-Appointment Reservations:
Free Relationship App on iTunes and Google Play: